No Spoiler Reader Reaction: Quintessential Quintuplets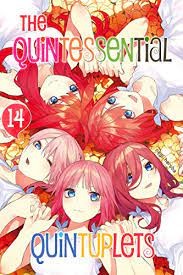 Title/Author: Quintessential Quintuplets by Negi Habura
Genre: Romantic Comedy
Type: Manga Series (graphic novel reading from back to front)
Length: 14 books, 122 Chapters, (about 20 pages each)
Rating: 5! Of 5
Quintessential Quintuplets is a really cute series about a high school student whose family doesn't have much money, so earning money is a priority. He always gets a 100 in all subjects, but problems start when he meets his tutees, a set of quintuplets, who, collectively can score a 100 but separately none can pass a single class. He has until the end of the first semester to make them all pass or he gets fired. The other problem is that none of these girls like to study and will run away when he tries to help them, so he has to go to each of the girls to earn their trust and get them to study, so that he can make money for his father and sister.
Personally, I picked up this book when I was in the mood for something lighthearted and cute, and I have to say that I was not disappointed. At the start, no one likes the main character, but as they warm up to him the story just gets better. Once you learn about all of the characters you find your favorite and root for that person to end up winning over the main character. One of my favorite aspects of the story is that it did not leave you guessing at the end. 
Anyway, I would highly recommend this manga for anyone who is looking for something lighthearted and cute; it is a great addition to anyone's collection.