A Conference to Remember – A 2019 Archive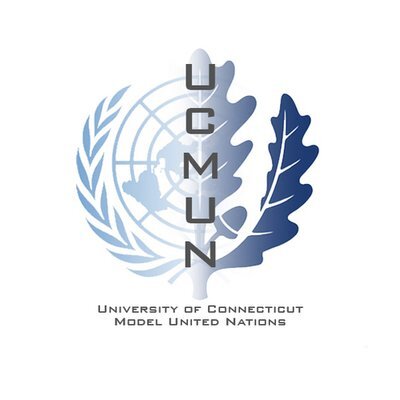 Model United Nations, or Model UN, is an activity in which students roleplay delegates of a United Nations conference, dealing with prevailing issues all over the world and debating to solve them. This year's UCONN Model United Nations Conference (UCMUN) took place last month with a  number of schools along the East Coast from Florida to Rhode Island involved. Competing in a diverse environment against some top tier private schools, E.O. Smith High School enjoyed great success, with several students given awards at the closing ceremony. These students included Nick Lanza (Most Improved Delegate), Sarah Cao (Most Improved Delegate), and Amogh Chaubey (Delegate of the Conference Nominee). 
The Model UN advisor for E.O Smith High School, Mr. Santasiere, stated, "This year UCMUN kept committees a perfect size to facilitate dynamic debate while giving delegates ample opportunity to get involved."
"
This year UCMUN kept committees a perfect size to facilitate dynamic debate while giving delegates ample opportunity to get involved"
— Mr. Santasiere, Advisor to E.O. Smith's Model UN Club
Mr. Santasiere has been involved in the UCMUN simulation for many years; however, this year's simulation was unique in a welcoming sense. Not only was it an exemplary year for the conference, but UCMUN also had a lasting effect on the E.O community. "This year, we had five former E.O. Smith graduates and MUNers running the conference (as college students) … It felt like a reunion of sorts," said Mr. Santasiere.
The conflicts in the various committees were debated through moderated and unmoderated caucuses, and eventually solved with resolution papers. A moderated caucus is a type of debate lasting 5-10 minutes, in which delegates need to raise their placards in order to make concise, short comments on how to address a specific aspect of the issue at hand. An unmoderated caucus allows delegates to freely debate and work together in blocs to form working papers without time constraints. These working papers can be approved and turned into a resolution paper solving the conflict, which is voted on at the end of the debate. 
Different committees addressed different geopolitical issues around the world. For example, the Commission on Crime Prevention and Criminal Justice (CCPCJ) dealt with the opioid crisis and immigrant smuggling. The delegates in this committee fought especially hard for the countries they represented, as the issues addressed are of great importance and affect the lives of hundreds of millions of people. Within the committee sessions, the delegates, as students and the generation that is coming to power in the future, learned a lot about these alarming issues and tried to solve them from the standpoints of different countries. 
The conference opened on Friday at 7:00 PM with a speech demonstrating the importance of Model UN, followed by the commencement of committee. Delegates first voted on which issue they wanted to address first. For CCPCJ, it was the opioid crisis. The delegates soon went into moderated caucuses that lasted over 2 hours. Friday night was used mainly for delegates to get to know each other and understand each others' stances. After thorough discussion, every delegate had an idea of how the sessions operate and what to work towards. 
After a night's preparation, delegates went into their committees on Saturday morning with much more confidence. Saturday's session began with a moderated caucuses, focusing on some of the symptoms of the opioid crisis that the committee was unable to address in the preceding night. The moderated caucuses continued for about two hours. Delegates then went into unmoderated caucuses in which they formed blocs to put their plans to solve the opioid crisis into a working paper. Producers of opioid drugs like Afghanistan and Myanmar worked together to make working papers that tried to prevent opioids from flowing outside of the country illegally, while delegates representing countries that are transits of opioid drugs (Panama, Morocco, and Algeria) worked towards stopping the flow of illegal opioid drugs into and out of their countries. More developed countries that are mainly the receivers and consumers of opioid drugs, like the United States and France, focused predominantly on healthcare. 
Once the delegates returned from lunch, they worked towards presenting and passing all the resolutions. All resolutions passed at about 4:00 PM, after which the committee members were able to enjoy a break accompanied by a geography game and some snacks. 
Soon after, the committee got back from the break and moved onto Topic B: immigrant smuggling. With the experience from the last topic, the committee was able to get right to the point. Some largely effective discussions were carried out about immigrant smuggling in the countries that the delegates represented. There were clear divisions between origin, passing and receiving countries of immigrants, but all worked towards similar goals.Delegates then asked for an unmoderated caucus and formed blocs, members of the blocs were assigned different parts of the working paper to work overnight.The second and most intense day of the conference was over. Carrying on from the extensive research from the previous night, the delegates asked for an unmoderated caucus and formed blocs. In order to save time, the delegates spontaneously fused the blocs together and started assigning different parts of the working paper to the members of the blocs for them to work on overnight. The second and most intense day of the conference was over. 
While delegates in the CCPCJ committee tackled issues like the opioid epidemic and illegal immigration, committees like the Social, Humanitarian, and Cultural Committee (SOCHUM) addressed topics like LGBT+ marriage rights and criminal justice reform. These controversial topics allowed students to become knowledgeable not only on these issues but also on the different methods of solving them and the stances countries have. This broadened the perspectives of UCMUN participants, teaching them about a world that is different from theirs. 
For example, in SOCHUM, Vietnam was a prevalent country regarding criminal justice reform, as they were a developing nation facing corruption in their law enforcement. On Sunday, delegates in the SOCHUM committee also used moderated and unmoderated caucuses to curate and modify their working papers. Blocs were formed based on a group of countries' perspectives on the subject, with developed nations forming resolutions to fund corruption-stopping programs, and developing nations forming blocs to specifically change the problems their justice system was facing. For instance, Vietnam's bloc drafted a working paper that addressed domestic violence issues, while Venezuela worked on resolutions to better their correction facilities. At the end of the debate (around 2:00 PM), both SOCHUM and CCPCJ passed all resolutions regarding criminal justice reform (SOCHUM) and immigrant smuggling (CCPCJ). The conference closed with a ceremony awarding individuals that had an outstanding performance during the sessions.
"The conference helped me grow as a debater and as a student. I enjoyed interacting with new people and working with them to find commonalities in our countries' positions," said Nick Lanza, E.O. Smith sophomore and the Most Improved Delegate of the ILC committee. 
The experience at UCMUN can be summarized as an educational, action-packed simulation that drove diplomatic arguments and made participants more civically engaged. Whether it was making new friends, drafting diverse resolutions, or fighting for your country's interests, the UCMUN experience was a way to broaden perspectives and educationally enlighten students from all over the East Coast.