Q & A: E.O. Graduate Rondell Bothroyd Huddles Up
The Wake Forest Defensive Linemen Shares Thoughts After Successful Season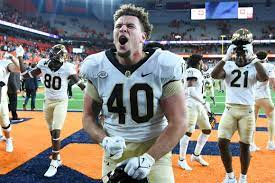 Rondell Bothroyd, an E.O. Smith graduate, has just completed his redshirt sophomore season as a football player at Wake Forest University, a highly-respected private university in Winston-Salem, N.C. Wake Forest has performed well in football this season, recently defeating Rutgers 38-10 in the TaxSlayer Gator Bowl in Jacksonville, Florida. Bothroyd played extensively on the defensive line, earning ACC defensive linemAn of the week for one of his performances and All-ACC Honorable Mention status at season's end. He finished the season with 63 total tackles, 16.5 tackles for loss, and eight sacks. His efforts helped the Demon Deacons finish 11-3, win the Atlantic Division of the Atlantic Coast Conference, and play in the ACC title game. Rondell was kind enough to reply to a few questions about his experiences.
**********************************************************************************
Q: Tell us about life at Wake Forest. You went a long way from here. What was it like to move away, adjust, settle in all while playing college football at such a high level? What was most difficult about the process, football or school? Was there a turning point at which you felt you were more settled?
Rondell: It was pretty hard to move this far from my family and friends at first especially because the first few months I was down here were not very enjoyable. The fall camp is no joke,  and it was the first experience I had of college football. Most freshmen want to go home,  and I know I was one of them. The most difficult process was probably the schedule we had for football. For the entire month of August, it is 6 a.m. to 9 p.m. of straight football. The school adjustment was a bit hard as well because you didn't have much structure with homework and assignments, so it took a lot of self motivation and organizing your free time, which I am not good at. 
Q: What was the adjustment to football like? What are the most significant changes you had to make? Were they physical in terms of building strength or mental in terms of processing new information and managing time? How much a part of your life is football now compared to high school? 
Rondell: Football is the majority of my life and a lot more than high school. They want us to be students before athletes, but, when it really comes down to it like a big game or if we had a bad game the week before, they want us to prioritize watching film and getting better. . . . This level is definitely more mental than physical because anyone can be big or strong, but if you have the mental capacity to learn on the go and adjust quickly you can be successful.  
Q: What has it been like this year to be part of a program that has been good and received national attention as well as an impressive national ranking? What is the atmosphere around football at Wake like?
Rondell: Looking back, it was really cool but at the moment during the season we didn't really take it in and admire it because we had the mentality that every week was a new season and forget last week. It was a lot more fun than last year when we were 4-5, I can say that.
Q: What have your bowl experiences been like? Can you compare it to anything else?
Rondell: This bowl is really my first bowl experience, and it's like a vacation until we have practice or meetings, then it goes back to a vacation with 100 of your boys you see every day. There's a switch we need to have for business and fun, and it isn't hard to do when you know what you're playing for.
Q: It must be so tough to play on defense in college with wide hash marks, a stoppage of time after every first down, run-pass option plays, linemen who can run down field three yards. What is that like? Does it get frustrating? You must have to have a determined  mindset to play defense in college?
Rondell: It is really frustrating along with all the penalties added to being a defensive player. The game has really turned into an offensive game, and the adjustment from being able to play without thinking as much to having to think about where it is OK to even touch someone every play is hard 
"
This level is definitely more mental than physical because anyone can be big or strong, but if you have the mental capacity to learn on the go and adjust quickly you can be successful.  
— Rondell on Division I College Football
Q: We all know here what Coach Kelly is like. What did you gain from your time at E.O. Smith both as an athlete and a student? What were the benefits? What do you think when you look back?
Rondell: I gained a lot from football because the importance of film that they emphasized carried over to college and is part of the reason I have been successful this year. Academically, it prepared me for a tough school with the high standard classes we have. If you talk to kids from down here or any other school, most of them weren't prepared because their high school was a joke
 Q: E.O. has been discussing a wide range of issues involving equity. When you look back on your experiences, what are your thoughts about what could make our school a better place in the future? After several years at college, do you wish any aspects of our environment would have been different?
Rondell: I think more education and emphasis on inequality and racial issues would benefit the teachers and students rather than avoiding the issues because it's sensitive or a hard topic to discuss. I think a lot of the time teachers and staff were too worried about saying the wrong thing or offending someone, so they just avoided it at all cost, which doesn't help future generations in progressing past these issues.